Flash movie is an animation file format is quite popular. The file format contains animated interactive and can run the content contains audio and video. Often used to make the website more interactive with various animations, run the file formats such as mp3 audio and video as flv, up to to create an online game.
In Linux, the file format flash movie that contains the extension .Swf can be run using the GNU Gnash. This lightweight application functions to run the flash movie file, capable of running many features of SWF version 7, and several features of version 8 and version 9. Although not yet support the Gnash SWF version 10, but Gnash is more than enough to run the flash movie files in Linux.
Here's a quick guide to using Gnash:
Installing Gnash
Gnash supports many operating system platforms, including: Debian, Fedora, Red Hat Enterprise Linux, Windows, and Ubuntu. For users of Debian and Ubuntu, Gnash can be installed by running the command text (command line) as follows:
$ Sudo apt-get install gnash
For other operating systems, you can download from the url: http://getgnash.org/
Running Gnash
You can run the flash movie files using either Gnash or text command from the file manager. To run the command text as follows:
$ Gnash file_flash.swf
If you want to run directly with the File Manager, open the way applications like Nautilus File Manager in GNOME desktop or Konquoror the KDE desktop. Then select the file flash swf file, right click on the flash swf file, then select "Open with Gnash SWF Viewer".

Running SWF files flash movie, with Gnash through the File Manager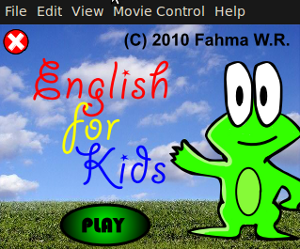 Information about Gnash
To obtain more detailed information about Gnash, please visit the link below:
Gnash, http://www.gnu.org/software/gnash/
The use Gnash, http://www.gnu.org/software/gnash/manual/gnashuser.html
Download Gnash, http://getgnash.org/